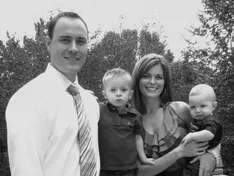 Dr. Hardy has definitely made a difference for me and my family. I have continuously had problems with my hamstrings. It seems once or twice a year I manage to pull one very badly while training for various sports. Usually the healing process can take from a few weeks to a number of months based on the severity of the injury. The last time I hurt myself, Dr. Hardy was able to show me how and why I was hurting myself. This was the first time someone had shown me what was causing the injury as opposed to treating the injury itself. Dr. Hardy also performed certain soft tissue treatments that not only cut my healing time down drastically, but also actually allowed me to compete with the injury. I was barely able to walk before the treatment, and I was able to run afterwards. Since Dr. Hardy educated me on my body and injuries, I have been able to protect myself from hurting my hamstring again.
Dr. Hardy has also had a profound effect upon my family's general health. He educated us on the impact of the food we eat, both good and bad. We have changed our diets and feel much healthier now. We know we are making life changing decisions to maintain our health and feel great about that.
JP
Kansas Rugby
UW Rugby
US Bobsled Team
---
FOOT PAIN
I had severe foot pain and saw a foot doctor who diagnosed it as plantar fasciitis and heal spurs. I was told to quit walking and given orthotics. If my symptoms didn't improve he suggested imobilization. The symptoms did not improve so I was sent to physical therapy. It helped temporarily but my feet started hurting severely again. I would suffer with pain after walking or just being on my feet for even short periods of time. I had to quit walking for exercise and even had to sit down to rest while I cooked or did house cleaning. My foot pain was totally disrupting my life. Chiropractic care has greatly helped me. I can walk and be on my feet like I used to and even play with my grandchildren without pain.
It has been a miracle and a great blessing! Thank you Dr. Hardy!
D. A.
---
VERTIGO
My vertigo was getting pretty bad. I couldn't even stay a full day at school. I had it so bad that I was actually passing out. I saw medical doctors, I had been to almost every medical doctor in town, the eye doctor, the neurologist and no one knew what was wrong with me. They performed head CT's, MRI's and every other test you could imagine. I was sent for physical therapy which seemed to make it worse. When we found Dr. Hardy within the first few adjustments it got a million times better. I was making all day at school, I was actually able to go out and play with my horse. I was a different kid! It's a whole new life, it's allowing me to do a whole lot more that I wish I could of done when I had my vertigo.
I would reccomend that people see Dr. Hardy! Thank you so much!
JL. R.
---
Migraines

My migraines started in Jan. 04. I had a constant neck ache that started in March 2000 after a car accident as well. The migraines would ruin a whole day or several days because I couldn't function at all. The neck aches made me constantly irritable and not fun to be around. After seeing Dr. Hardy my daily life is much more comfortable as I don't have as frequent migraines and no neck ache at all. I have been able to decrease my medicine intake from 100mg down to 25mg so a 75% decrease! Thank you so much Dr. Hardy. Try Chiropractic First! It just makes sense...
G. S.